Since
 

The Voice

 

first premiered in 2011, there have been plenty of

 

uncomfortable moments

 

and

 

embarrassing blunders.

 

Season 16 of the reality show only just started, and fans have already seen a marriage proposal go hilariously wrong, watched a contestant blow off Adam Levine, and caught John Legend throwing major shade.
Just when everyone thought things couldn't get any more cringe-worthy, contestant Abby Kasch stepped onto
 

The Voice

 

stage for her

 

Blind Audition.

Don't get me wrong—the 20-year-old's rendition of Gretchen Wilson's "Here for the Party" was very impressive, but that's not what caught people's attention.

I'll just go ahead and say it: the blonde-haired Nashville resident looks eerily similar to Miranda Lambert.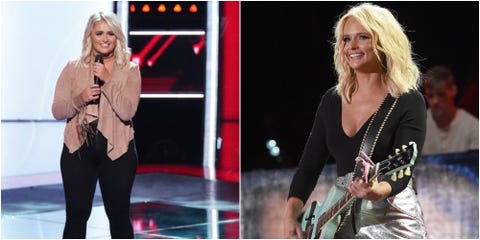 If you don't know why that's awkward, then you need to read up on her complicated relationship history.
In the meantime, allow me to connect the dots:
 

Miranda

 

is

 

Blake Shelton's ex-wife, and Blake is (obviously) a coach on

 

The Voice.

Abby's likeness to the Pistol Annies singer was not lost on fans.

 
Tell me that these two don't look alike? #TheVoice #blakeshelton pic.twitter.com/QwmKMskXZU

— Alisha Martin (@AlishaM45539942) March 12, 2019
Does anyone else think that Abby on #TheVoice looks just like Miranda Lambert🤔

— Caitlin Saunders Turner (@mrsturner6317_) March 12, 2019
And pretty much EVERYONE felt uncomfortable when
 

Blake—having not yet laid eyes on the contestant—turned his chair for her.