Country singers Carly Pearce and Michael Ray are calling it quits.
Pearce, 30, filed for divorce from Ray, 32, last Friday after eight months of marriage, according to People.
Pearce revealing she was the one who officially filed on Friday afternoon. 
Pearce and Ray went public with their relationship in late 2018, and they tied the knot in October of last year near Nashville, Tennessee.
A source close to the 30-year-old Every Little Thing singer-songwriter added that she grappled with the decision to divorce Ray, 32. The insider revealed more of Pearce's thought process around the breakup, saying
"This was a hard decision. It wasn't something she wanted to have to do. This hasn't been a quarantine realization — it was a last resort."
The former couple was last seen in public together on June 6, when they both performed a taped show at the Grand Ole Opry in Nashville alongside fellow country crooners Steve Wariner and Lee Brice.
Inneresting note: just before that performance, Ray spoke to People about how he and Pearce had been dealing with quarantine, revealing that they'd split their time between their place in Nashville and their families' homes.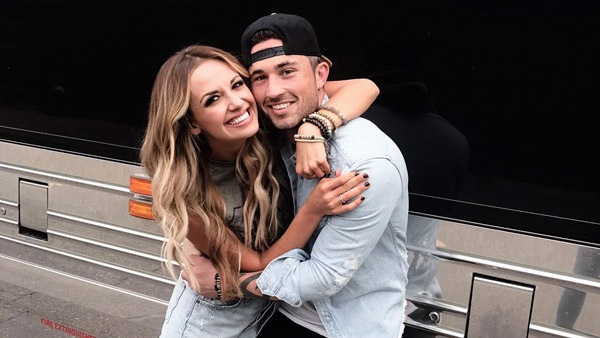 The Her World Or Mine singer told the mag that he and Pearce had spent the past month together in the coastal Alabama home of her parents, enjoying the time there by "going on a lot of wine walks" and keeping watch over Pearce's mother, who reportedly has a history of pneumonia, according to the outlet.
Quarantine or not, though, eagle-eyed fans had been noticing for weeks the two were getting less and less vocal about each other on social media — a tell-tale sign of trouble in the digital age, especially considering how loud and proud each one had been for each other in the recent past.
In December 2019, Pearce shared a video montage from their tropical honeymoon.
The pair recently collaborated on a duet, "Finish Your Sentences," for Pearce's self-titled sophomore album, which dropped on Valentine's Day this year.
As recently as March, the couple appeared to be spending time together in quarantine. Pearce posted a selfie of her and her husband hanging out in lockdown.
"Happy Quarantining! What are y'all doing to pass the time? (Yes, he's wearing eye patches)," she captioned the photo.
In April, the pair exchanged sweet birthday messages on Instagram.
"Happy Birthday to this guy, who also happens to be celebrating a Top 20 single this week (PROUD)! Of all the photos I have, I chose this one because I miss getting these secret selfies from guitar solos during your shows," Pearce wrote. "What a crazy time, but I'm thankful to have you to go through it with. I hope this year is your best yet and brings you happiness, fun & enjoyment in life. Love you."
The divorce news comes just one week after Pearce's new hit, I Hope You're Happy Now, topped the country charts.
The pair had known each other for years, with both working in the music industry in Nashville, before officially getting together in June of 2018. Their marriage late last year took place on a farm outside the city, and was attended by about 100 friends and family members.
Tough times for these two country music up-and-comers, indeed. Here's hoping they each have the emotional support and love they need to get through this breakup and move on with their lives. 
In recent months, though, photos of the couple together became less frequent on social media.